Class of 2019 Events
Announcements, Invitations and Graduation (6/2) Tickets
Graduation announcements are available for parents to purchase. Email Tara Joyner Tara29smith@hotmail.com to preview and order.
Invitations and Tickets will be mailed home on May 6, 2019. Every graduating Senior will receive 15 invitations and tickets to the graduation ceremony.
Senior Celebration
The Senior class along with their families and friends are invited to a celebration of their accomplishments on Thursday May 23, 2019 from 7-9pm
Mercer University, Cecil B. Day Hall Auditorium
An Evite will be sent out by May 6, 2019
Graduates and ushers please arrive outside of Day Hall by no later than 6:00 pm in semi-formal attire.
Please park in the West Parking Lot (it's free)
As part of the celebration we are asking that all graduates and their families create a poster to honor their achievements. Click here for directions. The poster is due on Monday, 5/20.
Last Week of School
The last week of school for seniors will be filled with graduation activities. All graduation practices are mandatory. Here is the schedule:
Monday, May 20
8:30-10:30 Graduation Practice
Graduates may go home early after practice
Tuesday, May 21
8:30-10:30 Graduation Practice
10:30-12:30 Senior Lunch
Graduates may go home early after practice + lunch
Wednesday, May 22
8:30-10:30 Graduation Practice
10:30-12:30 Senior Give Back Day
Graduates may go home after practice + senior give back event
Thursday, May 23
Senior Skip Day
Report to Mercer at 6:00
7:00 Senior Celebration
Graduation
All graduating Seniors will be honored at the formal graduation ceremony held at Georgia World Congress Center.
Sunday June 2, 2014, 4:00 pm
C101 Auditorium
Caps/gowns will be sent home with graduates by Friday, 5/10.
Graduates who are riding the bus please be in your cap/gown and at Tapestry by 1:00 pm.
Graduates who are meeting us at GWCC please meet us in the C Building at the bottom of the escalator (see red star) by 2:30pm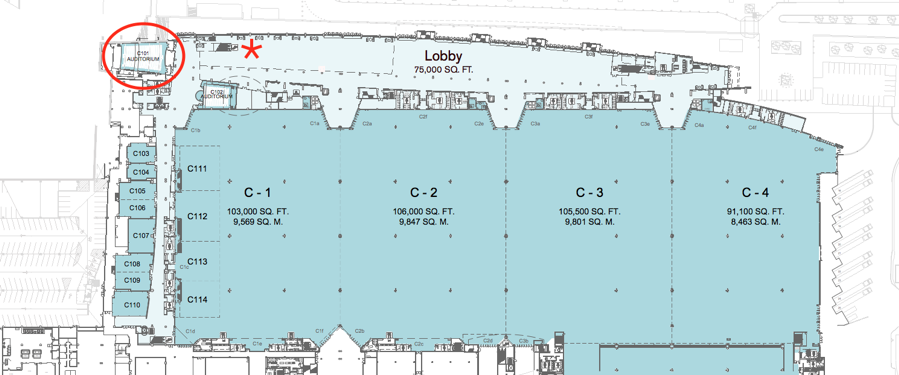 Parking for Graduation
We suggest that families park in the gold deck, because it is the closest to C101 in the GWCC.
Cost for parking is $20
or purchase online for $15 prior to event day
DEKALB SCHOOLS CODE: DKCG
Diploma Pick up
Diplomas are available for pick up at the front office at Tapestry Public Charter School from 9:00am-2:00pm on Monday June 3, 2019.